DUNMUN 2016 is on the Motion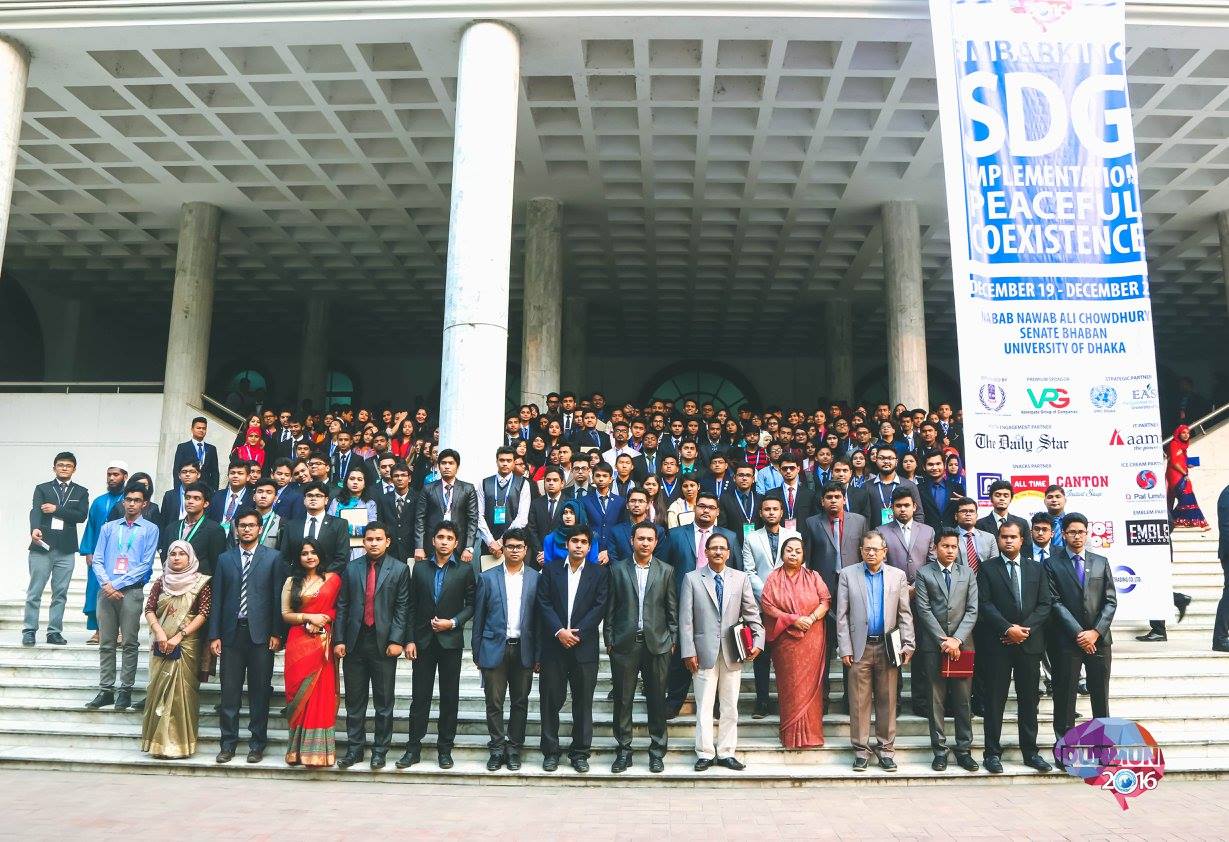 Dhaka University Model United Nations Association (DUMUNA) has launched the most prestigious MUN Conference of Bangladesh for the 5th time, starting from December 19 to December 22 at the University of Dhaka with the theme of "Embarking SDG Implementation for Peaceful Coexistence".
This four-daylong conference has accumulated around 500 hundred enthusiastic delegates from different places around the country and abroad. Dhaka University National Model United Nations (DUNMUN) 2016 is having 10 different committees that include the Specialized Committee for Bangladesh Affairs and Historical Crisis Committee (HCC).
The Chief Guest, Professor A A M S Arefin Siddique, Vice-Chancellor of Dhaka University, inaugurated DUNMUN 2016 by remembering the historical Victory Day of Bangladesh. About the conference, he denoted with pride that DUMUNA is the pioneer in the MUN society and is doing great to represent Model UN throughout the country.
Besides the Vice-Chancellor, present was Professor Dr. Nasreen Mahmud who is the Pro Vice-Chancellor (Academic) of DU, Professor Dr. Delwar Hossain who is Moderator of DUMUNA, Kazi Ali Reza; the Director of Communication; Dhaka Ahsania Mission, Mohammad Mamun Mia who is the Ex-President of DUMUNA and current President of United Nations Youth and Students Association of Bangladesh, Ashabul Mahmud who is the Secretary General of DUNMUN 2016 were present at the Inauguration Ceremony.
The Opening Plenary of DUNMUN 2016 was presided over by the very talented Wahiduzzaman Siddique, the former Secretary General of DUNMUN 2015.
The Youth Engagement Partner of DUNMUN 2016 is The Daily Star and the strategic partners include the UNIC, Dhaka and United Nations Youth and Students Association of Bangladesh.