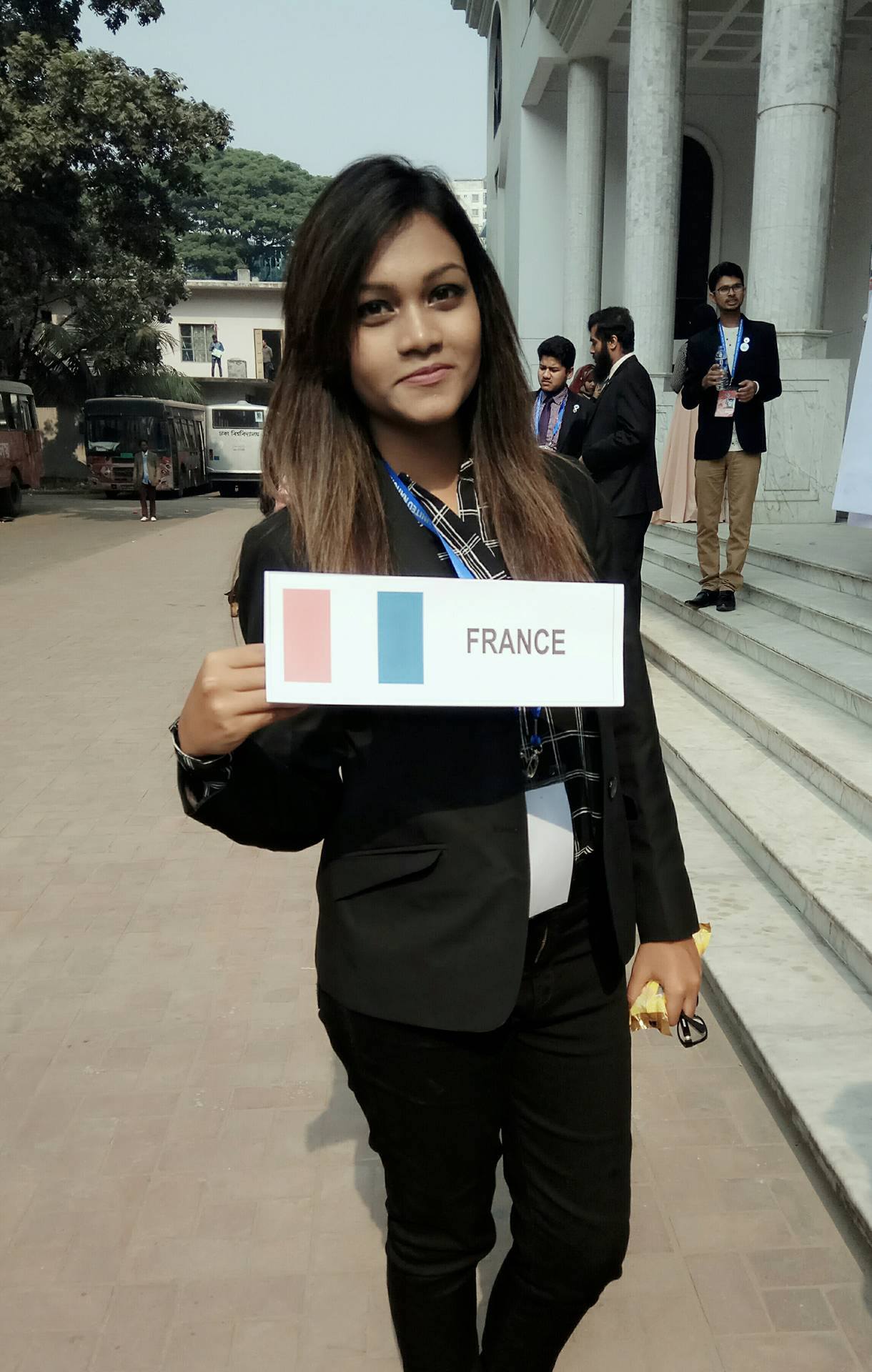 Anowara Rayhan Arusha
As a delegate, this was my first DUNMUN and only the second MUN conference to attend.
Being an introvert and a newbie in the MUN circuit, it was never been my comfort zone and coming out of it was indeed a challenge. Considering that, DUNMUN 2016 had a huge impact on me, positively of course, as I could finally reduce my fear for public speaking. Throughout the sessions I spoke for a few times and that boosted up my confidence to a new level. I represented France under the committee of UNICEF chaired by the very awesome Tanjim Ferdous who not only encouraged us to participate thoroughly but also made the MUN sessions exciting and fun.
Our two other Dias members Vice-Chair Rifat Z. Khan and Director Sajjaul Karim Shaown helped conduct the sessions smoothly and getting continuous guidance and support throughout the sessions from all the three Dias members is something I will always remember. The delegates of UNICEF had intense debates about how to implement educational plans for children in emergencies and post-crisis transitions, which was also our agenda for the committee, and reached out to many feasible and effective solutions. Those solutions were gathered and turned into a Draft Resolution which was successfully passed from our committee with the majority vote. And the best part about the Draft Resolution was that the two opponent forces- Canada and The Russian Federation merged and pledged to work together. This was indeed a new beginning and a new hope for the nations. "United we stand, divided we fall", quoted by our Honorable Chair, is a perfect example of this unity.
The four day journey of DUNMUN taught me leadership skills, the art of debating and public speaking and countless other wonderful things about friendship, unity and loyalty. Though I did not receive any award this time, I did not leave empty handed either. With DUNMUN 2016, I have amazing experiences and good memories associated which I will cherish for as long as I can. Hopefully I will return in a better form next time!
And lastly, I would like to thank DUMUNA for arranging the most prestigious MUN conference in town and encouraging the youth to exhibit their talent and make use of their potentials. Also I would like to thank my Dias members and committee members for making the conference a success. See you all, next year!