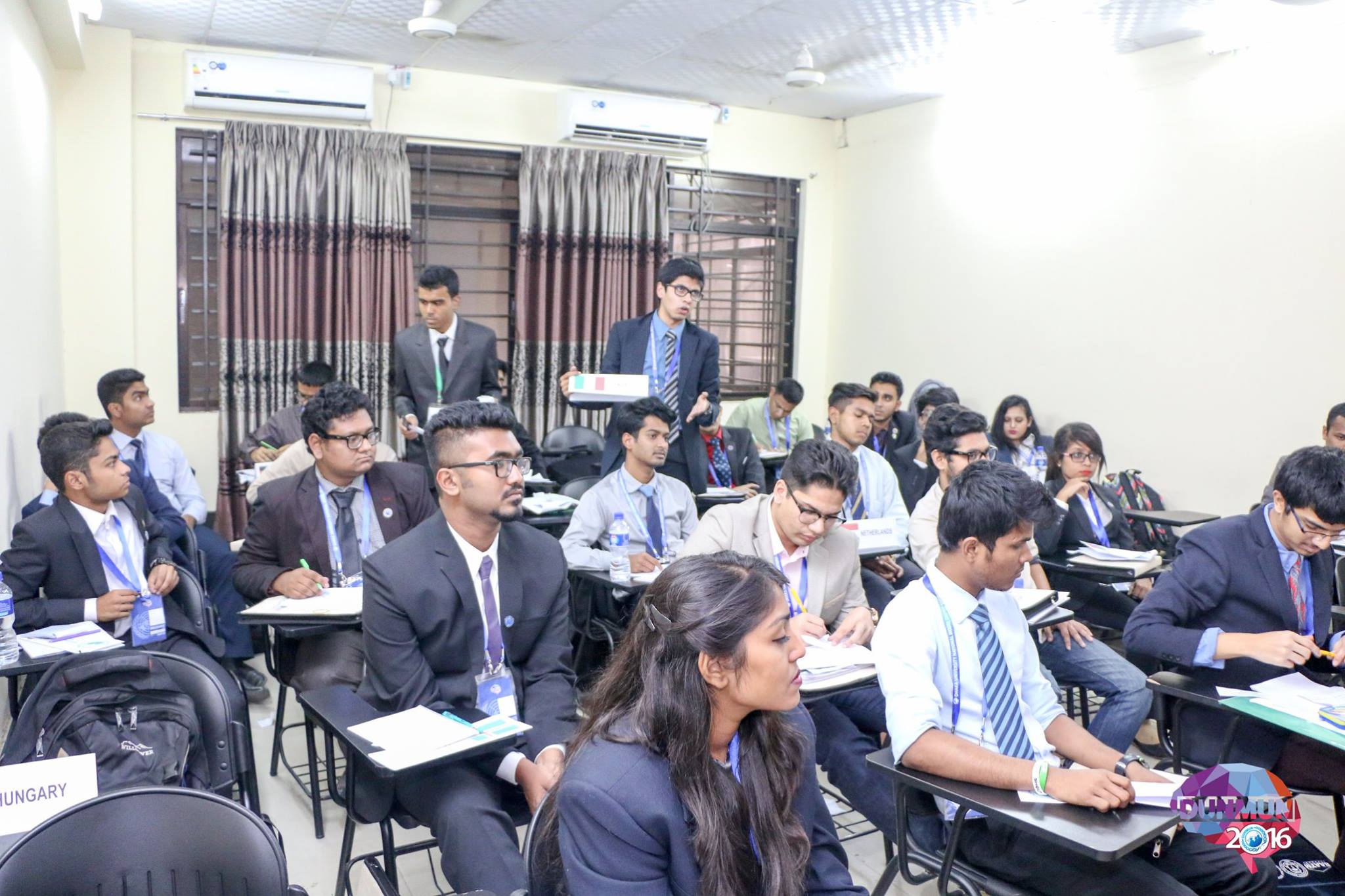 Salehin Akand
Well, this was my 4th and last MUN so obviously it was very special to me. Spent 4 amazing days with 27 of my fellow delegates and was blessed to have such an amazing dais like Julie Farzana, Golam Samin Rahman and Mir Maiesha Noor. They have been amazing.

Our chair, Julie Farzana, had her very own ways of running the first ever NATO committee in any MUN of our country. Her ways were very confusing at times. There were no POI's or blocs in our committee so that we had to cope with it at first. It was really a very unconventional MUN committee I can say. But, of course, these 4 days were tough.

At first we had this very long debate about the agenda. The debate got heated up because both parties had strong ground to argue with. But then the dais intervened and we tabled the debate on the first agenda and went on to the second full on.

The second agenda was about NATO's own structure, policy and security. So it was a vast topic. The debates were heated with a lot of background diplomacy going on. I as the delegate of Netherlands stressed on the lone wolf attack issue and cyber security. I had a very tough time convincing the dais and other delegates to adopt my solutions regarding the lone wolf issue. Though initially ridiculed by the delegate of Turkey, I stuck to my guns and backed my solutions and defended them to the best of my abilities.

Eventually the dais accepted my solutions which consisted of a 911 like centralized hotlines for the other NATO member states and incentives to report potential activities. Apart from that, my take on DUNMUN 2016 is that it was an amazing MUN. The socials were amazing, the delegate of Italy, Spain and I enjoyed ourselves like it was our last day on this beautiful planet. We danced like crazy to every song they played in the Global village, the delegate of Somalia from WHO and I head banged on every possible song. That was fun.

Singing Elvis's "Can't help falling in love" and dancing with Julie Apu during a motion of entertainment was an amazing experience for a crowd shy person like me. I'll be joining the 77th long course of Bangladesh Army on the 28th.So this is the end of my MUN journey.

I really wished I'd win an award and end it on a high but oh well... Something isn't meant to be I guess. But yes, MUNs gave me the confidence and belie that I can talk in front of a crowd and make them listen to me. It gave me the confidence that if I work hard enough I can achieve what I want in life. So I'd advice all my fellow delegates to take MUNs seriously and enjoy every small aspect of being a delegate. My MUN journey maybe short but I've gotten some astonishing highs, some stooping lows, a bunch of amazing friends and countless memories. All of which I'll put in my goody bag and take it to BMA.

For one last time... "DELEGATES, DELEGATES, DELEGATES"