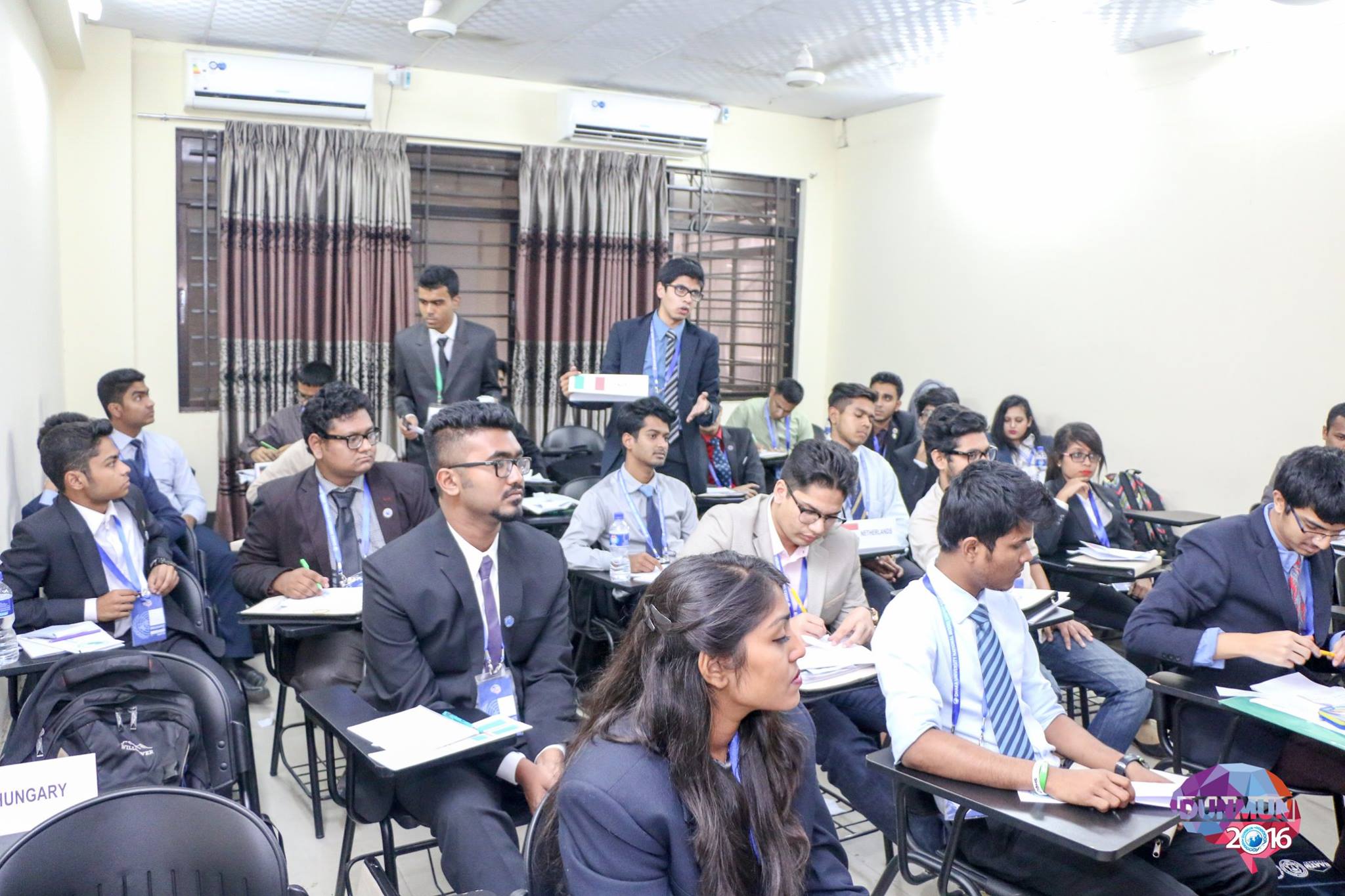 Sanzana Afreen
A faint twinge of excitement floated through my body thinking what's going to happen in DUNMUN 2016. A hint of anticipation of the coming day could not be suppressed as I was attending this long cherished event for the first time as an organizer. I could feel the majestic vibe of DUNMUN even when it didn't start. Working all the day for the preparation for the event, designing the gate of Senate, buying colors for decoration – all of these had been a pleasure to me. It's true those days were so tiring, I couldn't move my legs because of massive pain but the thing is I could feel it only at night. Even after having insane pain in my whole body I don't know how I could wake up early in the morning. May be this is why DUNMUN is so special! There's something in it which will hypnotize you & you won't be able to ignore it.
And then the day of inauguration came. While sitting in the registration booth, I saw the delegates that how enthusiastic they are! Each of them has come with new ideas & new thoughts. I became more excited to watch them presenting their ideas before others.
During the committee session time I saw the talented delegates of my committee fighting with their points. As one of the Dias said to the delegates, "Don't attend MUNs to win the awards but to win hearts", I saw my dear delegates fighting for winning hearts. I acknowledged a lot of apprehension & experiences during this four days event.
As I was the volunteer of the AIIB committee, I had to work really hard for serving the committee members but the thing is I hardly felt the pain of working hard because I had got the best committee ever. All the delegates were so friendly and warm hearted and their loving smile towards me really helped me to forget all my tiredness. A huge gratitude to all members of AIIB committee. Without their kind cooperation I could never be successful to perform my responsibilities.
This was the first time that I had ever really made a notable accomplishment in anything. This one experience, this one instant, changed me a lot .I have got so many amigos from here. After this conference I found self-confidence and discovered that perseverance yields its own sweet fruit. Thanks to all who appreciated me, Thanks to all who supported me & trusted in me. The outstanding experience of DUNMUN 2016 will be ever memorable to me. It's getting tougher for me to wait for the DUNMUN 2017. Hope to see you all again.
Adios!